Preparing and dressing for your photo session
I get asked more and more lately about what tips I can offer about wardrobe selection. I'm no fashion expert, but I've learned a few tips from experience and from fellow photographers  on what to select and what to avoid when getting ready for a photo session.  I love the fact that you all are reading this because I want your photo session to be just as fabulous as you! Please don't stress about shopping for something perfect, just keep it simple and stress free (if you can!) The goal is to make you and the moments I'll capture stand out and not so much what you select to wear.  So here are some tips, color combinations (for group photos) and suggestions for preparing and dressing for your photo session.
General Tips:
Textures and layers always look nice and add depth and detail to the photo.  Knits, scarves and sweaters for the fall and winter portraits are great on camera!
Solids colors are best.  Try to stay away from busy, loud patterns or logos, but don't be afraid to choose plaids or ginghams!
Avoid clothes with fine, repetitive lines typically found on men's dress shirts or suits.  These detailed lines can be difficult for the camera to register and may appear as wavy lines instead.
Avoid wearing loud or fluorescent colors especially corals  since it can be distracting when looking at a photos and the colors can reflect on your face.  So, unless you want to be bright orange, it's best to stay away from fluorescents.
IRON your wardrobe!  Every detail will show up in your portraits, so be sure to iron out any wrinkles, remove lint and loose threads.
For Groups:
Everyone should dress in a similar-style, for example:  All casual or all formal.  Even the shoe styles should be consistent.  In other words, don't have some family members with closed-toed shoes and others with flip-flops in the same photo.
Shirts and dress colors should be within the same color palette or be complimentary colors, rather than everyone in identical colors. Identical colors tend to look too "matchy".
Pants and skirts can be similar or identical in color, for example:  light denim, dark denim, tan khakis.
Women's clothing is more colorful than men's clothing.  I always tell Moms to start with picking a color they like best for the girls, then put the guys in a more neutral color.  Super cute when Moms and daughters throw a splash of similar color with an accessory like a matching scarf or headband.  Here are some great combinations!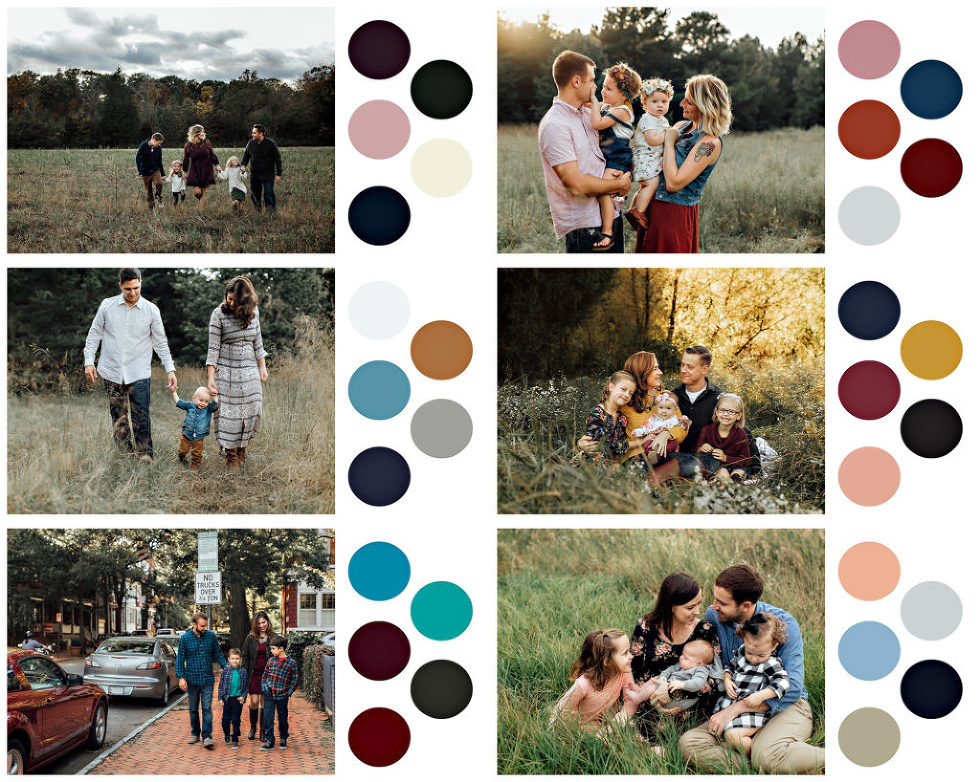 pintopinterest
Photo Source: Pinterest
LADIES:
Consider wearing dresses or tops that cover your arms partially or fully if you are concerned about how your upper arms look.  Bare arms tend to stand-out in a photo and can expose more skin than your face, thus drawing attention to your arms, not your beautiful face!
Lips – any shiny lip gloss in a color like berries or browns are great.   Avoid frosts or glitters that will reflect light.  Avoid dark colors.  Bring your lip gloss along for refreshing!
Face – a light application of non-SPF foundation helps smooth out the skin and cover any blemishes.  The goal is for a matte finish, not a glow so avoid foundations with bronzer or shimmer or mineral makeup.  Note:  The reason to avoid foundations with SPF or shimmer is because it reflects light and will effect the exposure of the photo.  If you can't find a non-SPF foundation, then just go for the lowest SPF amount offered.  Finally, brush a light translucent powder all over to cut down on shine.
Hair – Beautiful flowy is amazing but sometimes during all of our movement hair gets in the face and sometimes blocks it in some shots, especially when looking down at your littles or pets, etc. So please try use hairspray or hair product that help prevent wisps, etc.
MEN:
Be clean-shaven or beards and mustaches trimmed.   For clean-shaven guys, you may think a little stubble won't be seen on camera, but it totally shows in close-ups, so spend the extra time to shave and put on your "handsome"!
Socks and Feet show!  If you're thinking your socks and/or shoes don't matter because they won't be in the photo…..think again!  Many times I will pose you in a seated or crouching position which will definitely show shoes and socks.  Please wear socks and shoes that match the color of your clothes and your clothing style, i.e. casual, formal.  No brown socks with black pants!  If you're at the beach, flip-flops or bare feet are fine!
KIDS (MOMS PLEASE HELP!):
Wipe away crusty noses and eyes, fresh-scrub teeth.
Kids lips get chapped! Bring Chapstick to give a softer look.
If your child is still in diapers or pull-ups, hide them well under bloomers, shorts or pants.
If your child is still of napping age, make sure they nap before the shoot.
Be sure to give a potty-break prior to the session.
It is perfectly okay to bring bribes to a photo. Some cereal, smarties or other candy that won't stain teeth can help a short photo shoot go smoothly.
Avoid colorful drinks or lollypops within hours of your shoot, don't let them eat or drink anything that will stain their face, teeth or mouths.